25-40% OFF
PREMIUM TEARDROP BANNERS SALE
Order Premium Teardrop Banners from Australia's #1 Producer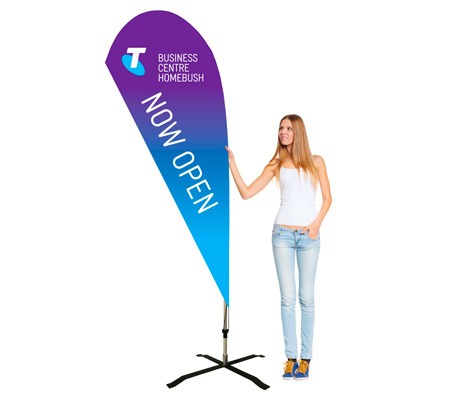 Get Quote
Fill in the online form above and we will get started on creating a suitable design for your approval.
Vibrant Teardrop Banner Flags
Promocolour are Australia's number one producer teardrop banner flags. For nearly a decade we have produced thousands of premium quality banners at the lowest cost with great customer service.  Available in a range of sizes and colours, each banner can be customised with a design of your choice. See below for more information on the benefits of ordering a teardrop banner from us.
Whether you want a banner for use indoors or outdoors, our inks are up to the job! We use a hi-tech, subliminal dying technique, ensuring you end up with clear, sharp contrasts and deep, vibrant colours that are resistant to the fading which UV light can cause. We expect our banners to last indefinitely indoors and for around a year in top condition outside, no matter what the weather may bring.
Enjoy fast and FREE shipping with all teardrop banner orders
As an added benefit when you use us for your banners or flags, we will ship your products anywhere in the country, such as Sydney, Melbourne, Brisbane, Perth, Adelaide, Hobart, Darwin and any regional town in Australia, for FREE. No matter how many flags you order, or where you want them sending to in Australia, you won't pay a shipping charge.
Free Teardrop Banner Artwork Design
Our team of experienced, talented designers are able to create a stunning banner that's exactly what your company needs. Whether you want us to design it completely, or have some ideas, a logo, corporate colours or a specific wording that you wish to be integrated into the end product, we are able to create something special for you. Designing the artwork and graphics for your banner is completely FREE and without obligation.
Teardrop Banner Orders Include:
Pantone colour matched high-quality printing.
Inks which are resistant to UV light.
Fibreglass poles strengthened with steel.
Choose from a number of different base options.
Benefit from single or double-sided printing.
We include a spindle so that your flag turns to the wind.
Zippered carry case is included.
Simple, fast set-up.
View these teardrop banner designs
Why choose our teardrop banners for your business?
For many years we have been Australia's first contact for custom banners. Unlike our competitors we offer a full service options including design, print and delivery. All our promotional banners come with full-colour printing and high quality accessories. Use them at community or corporate events, markets, festivals or anywhere else where you want to make your brand stand out from the crowd.
How are Teardrop Banners Made?
We've made the process of making teardrop banners very simple. Firstly, we take our customers idea and create a draft design. If any changes are needed, we update the design until our customer is happy. The next step involves printing the design on to the banner fabric. This process is called dye sublimation (heat transfer). The design is printed on to the fabric and then the material is cut and prepare for stitching.
Our team then stitches the pole sleeve to the outer edge of the banner. Finally, the banner and its appropriate hardware is packed ready for shipping Australia wide.
Which type of base should I get for my teardrop banner?
To choose a suitable  base you need to consider where it will be used and on what surface? If you intend to use the banner in a grassy area for garden bed, then the ground spike is most suitable. Another thing to consider is whether you will be setting up and taking down the banner each day. In this case a ground spike may not be the best option.
The second most popular base type is the cross base stand. This is perfect for hard flat surfaces, both indoors and outdoors. For windy days we also offer water bag weighs to hold the banner in place. For permanent fixtures we offer 0 degree and 30 degree wall brackets. These are permanently attached to walls or fences and the banner can be attached or detached. All of the teardrop banner bases are interchangeable so you can purchase more than one base for your banner display.
For more read Blog post on choosing the right teardrop banner base.
Awesome quality and service. We couldn't more happy with our Teardrop Banners and Marquee. They did free artwork with no obligation and the quote was better than anywhere else. Free shipping also great. Highly recommend Promocolour.

Chris Brown
The team at Promocolour were amazing! very prompt and professional. The banner flags that we received were very high quality, beautiful vibrant print, with a wonderful neat finish. Very well made. Would happily recommend them for any of your next promotional print needs.

Formula Marketing
Many thanks for all your help and the fantastic work you do. We are extremely happy with the end result and they look fabulous in our pool hall. Fast professional service that I would highly recommend.

Jo Wilkinson
From start to finish the communication was open. They gave me their word re a delivery date and came in one day early. Quality appears to be great. Would recommend for sure.

Kevin B Kelly
Amazing Service and Great Quality, Had an Urgent Job for a Client and they happily rushed the Job through and organised freight. They were delivered within 3 Days of placing the order. Extremely Impressed.

Alex Mannea